Chiropractic Adjustment
At Anderson Family Chiropractic we offer a variety of adjusting techniques. We utilize diversified adjusting technique and drop piece for most patients. Activator adjustments can be performed upon request or for patients with delicate conditions.
DOT Physical Exams
Anderson Family Chiropractic has two convenient locations in Superior and Lake Nebagamon, Wisconsin for clients who are interested in getting their DOT exam completed. DOT exams are performed on people who are required to drive for a living including semi truck drivers, bus drivers, individuals working in the oil and propane industry, delivery drivers, all drivers that hold a commercial drivers license (CDL), construction workers, and many more.
If you are in need of the DOT exam for the first time or need to be re-certified, give us a call today to schedule.
Rock Tape
RockTape is a type of kinesiology tape that can help reduce muscle fatigue and promote blood flow to an area of injury to promote faster recovery. It particularly helps athletes improve recovery and relieve pain and swelling.
RockTape works by lifting the skin to increase blood flow and oxygen to your muscles which can reduce fatigue. It also promotes lymph drainage which remove toxins from the area that the tape is applied. Often the RockTape is applied to shoulders, knees, and other joints, however, it can also be applied to provide postural support.
Nutrition/Exercise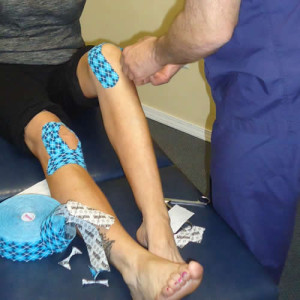 Anderson Family Chiropractic advises and encourage our patients to pursue home exercise and nutritional enhancement through supplementation. We offer a variety of nutritional produces such as Metagenics, Nordic Naturals, and Nutridyn.
We will also help tailor a personalized home exercise protocol which will suit your needs to become healthier.
Muscle Therapies
We offer multiple services for muscle therapy including electric muscle stimulation, trigger point therapy, cupping, and instrument assisted soft tissue mobilization. If you are interested in any of these in addition to your adjustment, please let one of the Doctors know.